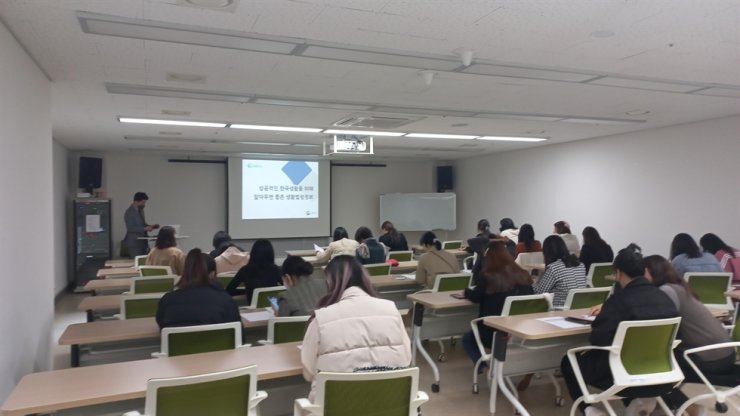 By Nam Hyun-woo
More than 270 multicultural family members learned about Korean laws and regulations through tailored education programs run by the Ministry of Government Legislation in the first half of this year.
According to the ministry, Sunday, the education programs were offered in 15 multicultural family centers and other institutions in Seoul, Sejong, Guri in Gyeonggi Province and Asan in South Chungcheong Province to help multicultural family members successfully settle in Korean society.
As South Korea becomes increasingly diverse, the ministry is expanding these educational offerings. According to Statistics Korea, 6 percent of newborns in 2020 were born into multicultural families, an increase from 4.5 percent in 2015. As of 2021, approximately 2.2 percent of South Korea's total population comprises members of multicultural families.
Against this backdrop, the ministry is expanding the education programs to cover more multicultural families and explain legal regulations in everyday life for those experiencing difficulties due to a lack of understanding of the country's laws.
The program has been running since 2015, and to date, 1,791 individuals have completed it.
During the programs, participants learned how to attain information on laws related to settlement in Korea, childbearing and family legal issues. In particular, the curriculum covers a range of topics, including laws related to acquiring nationality, social adaptation support, housing assistance, child education, domestic violence, divorce and other legal issues that may impact multicultural families.
"I believe this is an essential education for married immigrants," an instructor who taught in a program in Sejong said. "Those who have recently arrived in Korea are showing interest in rules and regulations related to childbirth and childcare, while those who have spent time here are concerned about rules on citizenship, employment and other labor-related matters."
"In order for multicultural families to successfully settle into the Korean society, it is crucial to improve their understanding of the country's legal system," Minister of Government Legislation Lee Wan-kyu said. "We will continue making efforts to expand and enhance legal education to contribute to the integration of our society."